Control pH and Solids Automatically with the 5000s Water Treatment System
Industrial process and stormwater management is a vital issue in the concrete manufacturing industry.
The 5000s model CO2 pH control system from Fortrans features a full-size utility building with lockable steel door, lights, and shelving. The 5000s offers similar process water and stormwater treatment capabilities as the 5000b pH neutralization system. Additionally, like our other models, the 5000b allows owners and managers of concrete manufacturing plants to cost-effectively manage process water and stormwater by:
Reducing pH
Lowering suspended and dissolved solids
Monitoring water quality
and more
Product Specifications, Information, & Requirements of the 5000s
The Model 5000s is installed inside a vinyl clad, stick built utility building with a Coex brand plastic floor and is built on a permanent Trex skid to prevent water damage and other corrosion.
To prevent water damage, the 5000b is build on a Trex® skid with Coex® plastic flooring, which allows maximum protection.
Included with this system is a Godwin 1 HP submersible pump with a float switch that is connected to a GFCI outlet in the rear, suction and discharge hoses equipped with camlock quick-connect fittings and a red alarm light and fixture.
When purchasing any 5000 series CO2 pH control and neutralization system, owners and concrete manufacturing plants must supply:
10' x 10' concrete pad for system CO2 tank storage
115v 20 Amp electrical service
CO2 tank
CO2 regulator (Victor SR-310-320 is preferred)
CO2 supply hose
Customer satisfaction is guaranteed.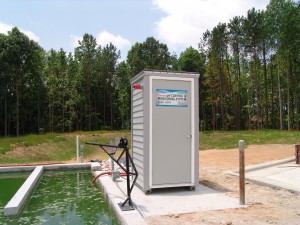 Fortrans stands behind every industrial process water management system we produce right here in the United States. For more information and customization information for your unique facility needs, contact our staff. We look forward to speaking with you!