Model 5000B Package pH Control System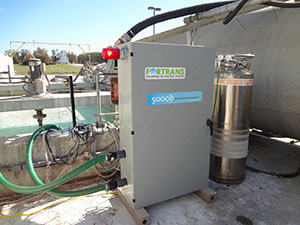 Fortrans Inc.® manufactures a self-contained pH control, neutralization, and monitoring system that uses CO2 gas to neutralize high-pH process water and lower total suspended solids in process water produced at ready-mix concrete plants. This system uses our patented Dif-Jet gas mixing device which dissolves over 90% of carbon dioxide gas into carbonic acid.
The 5000B pH Control and Monitoring System for industrial process water from Fortrans offers proven technology to enable operators to control the pH and total suspended solids of process water in a cost-effective and easy manner.
As our most popular pH neutralization system model, the 5000B can provide many benefits and the solution to a lot of your water treatment needs including:
Industrial Process Water
Stormwater

BMPs

Retention Pits
Detention Pits
Basins
And More

Rinse Water from Concrete Truck Cleaning
Why Your Facility Should Choose the 5000B
All 5000 series CO2 pH control and neutralization systems systems from Fortrans cost 60% to 70% less to operate and maintain than acid-based pH control systems and are much safer as well. The 5000 series does not does not require a separate tank, and you may add the following pH Control System Accessories:
Custom System Flow and Treatment Capacity
Electronic Flow Meter
Data Logger
Modular Discharge Option
pH Monitors and Reports
Chemical Pumps and Injectors
And More
Over 600 of these CO2 pH neutralization and control systems are operating at concrete plants and other facilities throughout the United States. The pH control systems are easy to maintain, highly reliable, and affordable.
Contact the industrial process water treatment professionals at 866-958-7267. We can partner with facility in the United States and Canada.