New System Provides More Efficient Aeration and Circulation for Aquaponics, Hydroponics and Aquaculture
Fortrans Inc. is pleased to announce our Patent Pending Dif-Jet™ aerators and
self-contained aeration systems for Aquaponics, Hydroponics and Aquaculture.
Dif-Jet™ aerators are located above the water surface distributing aerated water into ponds or tanks. Aerated water may be released at lower depths providing better dispersion and mixing. Aerators may be optionally installed on floatation for placement within tanks or ponds.
The Dif-Jet aerators are non-fouling and are easily incorporated into existing
piping to distribute aerated water to tanks, raceways and ponds.
With the Dif-Jet™ design, micro nutrients may be circulated with the aerated water without fouling the aerator or requiring a pre-filter. Liquid chemicals may be added to control other parameters without affecting the performance of the aerator.
Dif-Jet™ aerators rarely need cleaning and are designed to provide efficient service for many years. The modular design of the Dif-Jet™ permits easy installation of additional Dif-Jet™ aerators as needed.
Fortrans also manufactures Dif-Jet™ aeration systems. A system consists of the appropriate
size (CFM) rotary vane air compressor, an enclosure to house the Dif-Jet™ aerator and a 2" diameter schedule 80 pipe treatment loop with electronic water flow meter.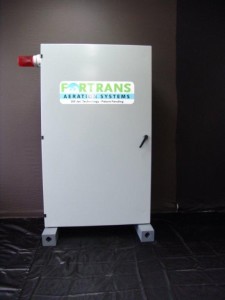 Dif-Jet™
System Enclosure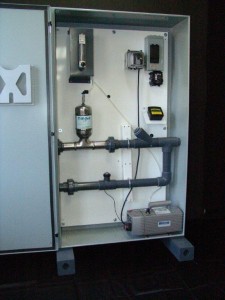 Dif-Jet™
System with 5 CFM rotary vane compressor