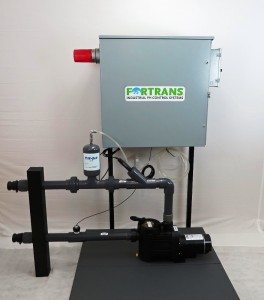 pH Control System for High-pH and High-Solids Industrial Wastewater and Stormwater: Skid-Mounted System
Fortrans Inc.® designs and manufactures pH control systems for industrial use. Our team has a 10-year track record of over 900 successful installations throughout the United States and Canada. For example, Fortrans CO2 pH control and neutralization systems allow concrete manufacturing facilities to treat and discharge excess industrial process water and stormwater with a low cost and dependable system that utilizes CO2 to treat water for pH and remove suspended and dissolved solids
The 5000SK model is for companies that wish to use existing buildings or enclosures to house the Fortrans 5000SK pH neutralization system. Not only can it help you with pH control, depending on your local regulations, you can likely reuse and repurpose the treated water, too, to wash concrete mixing trucks and more. The benefits are seemingly endless!
Features of the 5000S Stormwater & Process Water pH Treatment System
ELIMINATE HIGH COST OF DISPOSAL INCLUDING TRUCKING AND DISPOSAL FEES!
At Fortrans, we are confident that our devices can provide your manufacturing facility a CO2 pH neutralization and control system that will meet your needs for pH adjustment for legal discharge or discharge to a public wastewater plant.
The Model 5000SK features many of the components and features of the 5000B model, but, because the 5000SK is for systems that are already enclosed or indoors, it does not come with lighting or shelving.
Like the 5000B, the 5000SK is equipped with:
An Electronic Flow Meter
A Factory-Wired Industrial Surge Suppressor
A Godwin Submersible Pump: 1HP
2″ Suction Hoses with Quick Connect Fittings
An Alarm Light
An Interior CO2 Flowmeter
An Interior Pressure Relief Valve
And More
Also, an installation, operation, and maintenance manual is provided with your 5000SK pH control system, and Fortrans provides outstanding factory support should you ever need it.
Place an order for your Model 5000sk water treatment system from Fortrans today! Our staff is available to assist you at your convenience.